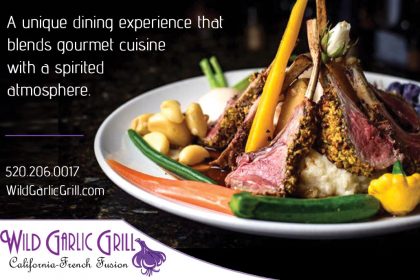 Wild Garlic Grill Moving to Plaza Colonial Tucson
TUCSON, AZ – 10/25/2017 (PRESS RELEASE JET) — One of Tucson's foremost destinations for foodies is about to get a new home! Wild Garlic Grill will relocate to Plaza Colonial on the southwest corner of Skyline and Campbell in Fall 2017.  Owner Maudi Gourdin-Schultz's restaurant features the artistry of Chef Steven Schultz and his signature brand of California-French fusion cuisine.
A native of Tucson, Schultz has been sharing his tantalizing cuisine out of the historic Frosty Top building on 1st Avenue for almost five years.  The success of the restaurant has been overwhelming and Schultz and Gourdin-Schultz are both delighted with the positive response from the community. Gourdin-Schultz states, "We've been blessed to have a loyal and passionate clientele that is at the core of our success.  It's been wonderful cultivating our concept in our current location.  It's a unique building with an exceptional amount of history and charm."  While guests of the restaurant agree that the current location has great character, the small size creates limitations for patrons as well as Chef Schultz and his staff. The new space is a perfect fit and will afford Chef Schultz the opportunity to make his menu more diverse and innovative.
Besides the fabulous food, one of Wild Garlic Grill's major appeals is that it offers a fine dining experience in a casual and friendly environment. Preserving this staple of the restaurant's unique charm was of the utmost importance to Gourdin-Schultz and Schultz.  The plaza, nestled at the base of the Catalina Foothills, provides breathtaking views of the city and the night sky, while the restaurant's comfortable, modern interior suits the spirit of the casual fine dining concept.
Chef Schultz and owner Gourdin-Schultz look forward to seeing you at their new location! Make your reservations today and experience the new Wild Garlic Grill in the Catalina Foothills.
About Plaza Colonial
Plaza Colonial is an 80,000-square foot Spanish Colonial styled shopping center located in the foothills of Tucson, Arizona. Visitors find the locally owned art and design center by the landmark copper dome at the corner of Plaza Colonial, like the dome on the downtown Tucson courthouse. Shoppers can find a variety of upscale retail venues, including interior design studios, restaurants, galleries and spas, surrounded by a lush green courtyard and fantastic views of the nearby Catalina Mountains. Plaza Colonial, 2870 E. Skyline Drive, Tucson, AZ at the SW Corner of Campbell and Skyline Drive. Learn more at PlazaColonialTucson.com or call (520) 299-0494.
Media Contacts:
Company Name: Wild Garlic Grill
Full Name: Maudi Gourdin-Schultz
Phone: 520-235-6723
Email Address: wildgarlicgrill@gmail.com
Website: http://www.wildgarlicgrill.com/